We'd like to invite you on a journey through chocolate...
Greetings curious soul!
You're cordially invited to our first-ever chocolate experience, created in conjunction with Embrace Chocolate!
Discover the moments and memories that informed your chocolate and taste preferences through a guided chocolate tasting flight!
📅 17 June, Friday, 5.30pm-7pm
📍 Embrace Chocolate, 307 Joo Chiat Road
🎟 Register here | $45/pax
What to expect:
Delicious craft chocolates
Meaningful personal stories
A deeper understanding of what kinds of chocolate you like
A deeper appreciation for craft chocolates
---
The Story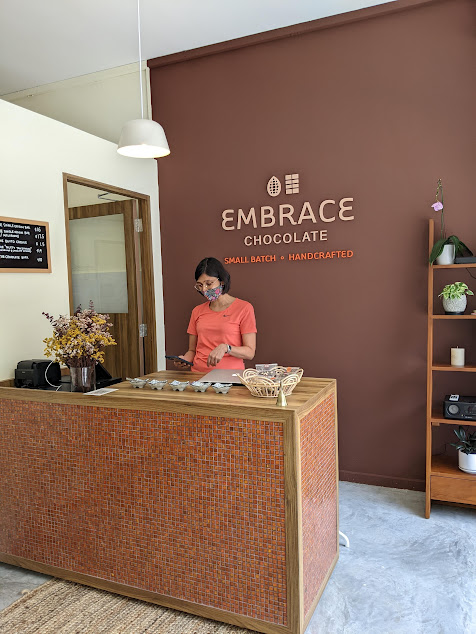 The date was February 22, it was a sweltering hot day in Joo Chiat where there never seems to be enough trees to offer shade. I was making my way to the bus stop when the smell of chocolate stopped me in my tracks.
I looked up from my phone and saw the words 'Embrace Chocolate, small-batch, handcrafted' through the shop window. I remember pushing the door open and being greeted by the warmest welcome I've ever received in a confectionary shop.
I left the shop that day, my wallet a little lighter, my bag a couple of chocolate bars heavier, and plagued by a question that would inevitably lead to the creation of this very experience.
"How can taste experiences be used to tell stories?"
The whole reason why I started Taste Series and ended up knee-deep in creating gustatory aesthetic experiences was because I was enthralled by the storytelling potential of flavors.
Unlike sounds and sights, there's something visceral and intimate about taste and flavors. Perhaps it's because we have to put an object into our bodies in order to taste it. Or maybe it's because taste and flavors are one of the most intense experiences are can have in our formative years.
Who knows?
The point is, even if we are not aware of it, taste and flavors mean something to us. And where there is meaning, there are stories.
Having dabbled in creating taste experiences for the past two years, I've managed to create experiences that help people remember and share their personal stories. But, I have yet to attempt telling someone else's story through taste experiences.
Until now.
A story we want to tell through chocolate
There's a lot that goes on behind making craft chocolate.
You don't need me to tell you that.
Stories of how chocolatiers fall in love with chocolate, and their journey from consumer to maker are a dime in a dozen. There are probably countless articles, blog posts, and interviews about these stories. You can easily read, watch and listen to them.
But you can't taste them.
There's something magical that happens when you consume a story, literally. When you can experience the story using your own senses, your own tastebuds. Somehow, a connection is forged between your story and theirs when your sense of taste becomes involved.
All the hard work that goes into the creation of an artisanal chocolate bar goes from factual knowledge to a personally meaningful experience.
At least that's what happened to me when I stepped inside Embrace Chocolate and tasted their chocolates.
It's beautiful when something as seemingly mundane as a bar of chocolate is able to change how I relate to myself, my life, and the world around me. That moment when chocolate becomes something more than chocolate. That moment when chocolate becomes special.
I really really want to share that moment with other people, with you.
Our secret wish is for this to develop into a series of experiences, like chapters in a book. With each event telling a different aspect of Namita's chocolate journey.
But even successful TV series begin with a single pilot episode.
And that's what Discover your chocolate preferences is.
Our pilot chapter for telling stories through taste experiences.
tldr;
I found Namita's chocolate journey and story incredibly compelling and resonant and wanted to share that with people through a taste experience.
So if you love stories or tasting things, please join us for the experience!
🍫Click me to register!!